Eila Adams: Your hot girl next door soon in Naked & Uncut Estonia!
Eila Adams hails from a quaint town in British Columbia, Canada, yet she's completely at home amidst the vibrant pulse of a metropolis. The city's luminous allure resonates with her deeply. When she's not immersed in her professional world, you'll find her spending quality time with loved ones, indulging in retail therapy, or getting lost in a captivating book alongside her furry friend.
While her radiant smile paints a picture of the quintessential girl next door, there's a streak of spontaneity, especially when tequila enters the mix. A lover of nature, she gravitates towards sandy shores during summertime. Fitness isn't just a routine for Eila; it's a passion. Her enthusiasm shines through in her Flex Appeal segments, which she crafts herself.
How did you get into the industry?
I got into the industry as soon as I turned 18. Apparently I just couldn't wait to get naked. I started out nude modeling, I did a little bit of acting and then I auditioned for Naked News in 2009 and I've been with the company ever since. I can't believe it's been 14 years but I think I look better now than I did in 2009.
Do your friends/family know that you are an adult content creator?
I'm really lucky because I have a super supportive family and a great group of friends. Everybody knows that I'm an adult content creator and I've actually even interviewed my mother on Naked News! I'm really trying to get my grandma on the show next so I'm so lucky that I have great people in my life that support me.
What would you consider as your best asset / part of your body?
I love my smile since it lets me get away with murder and my favorite part of my body… I would say my feet. I've always loved my feet. I'm a size six and I'm very foot fetish friendly.
What can we expect from your LIVE shows while at WarehouseX?
I am so excited to be streaming live from Warehouse X because it looks like a wild venue. I'll definitely be doing some naked workouts and we have a lot of fun games planned and I guess I'll be doing sleep streaming as well since there are cameras in the bedroom. That was a fun surprise that I'm actually a little nervous about. Am I going to get any sleep?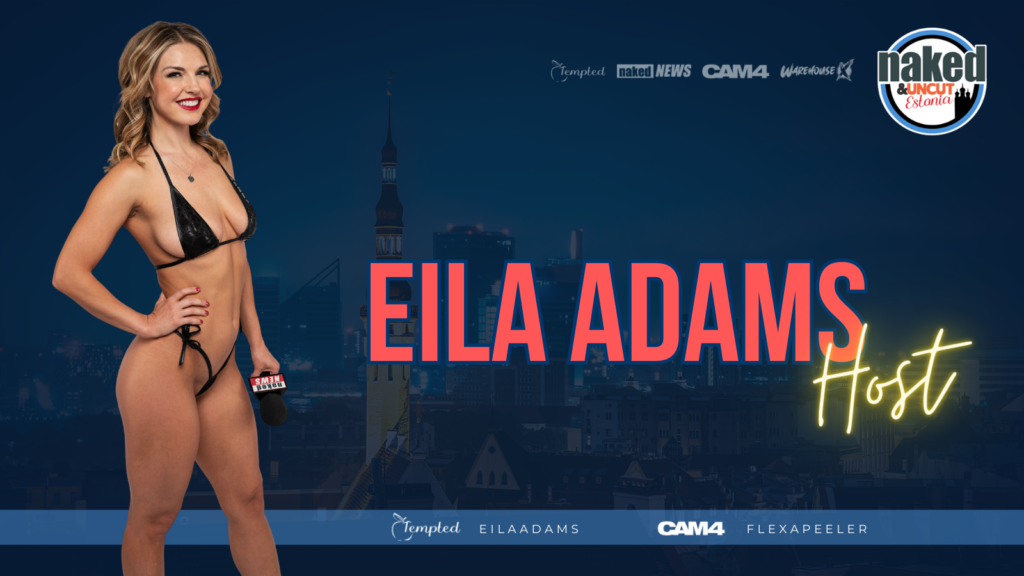 What is on your sexual bucket list and what do you hope to cross off while in Estonia?
Well a few of the girls and I were talking about shooting a cum race! It's exactly what it sounds like on your marks! Get, set, cum! We'll see how that goes!
What's the best advice for feeling confident in your sexuality and body?
Good question! I think the best advice for feeling confident in your sexuality and body is to spend time naked. Sleep naked, cook naked, hang out naked… I wish I was naked right now! You got to take some naked pictures of yourself and of course take care of and love your body because when you look good you feel good and I'm a huge believer in that.
We all have our bad days, on a day when you don't feel as confident, how do you overcome that and forge on?
On bad days I just fake it. Fake it till you make it definitely is applicable in so many situations. Just put on a smile, do your job and then go home and crawl under the covers and hide and try to make yourself feel better.
You only have 3 things you can pack and clothes are not an option… What are you bringing?
Are we talking about this trip or like a survival trip? Obviously my list will be very different! But for this kind of trip to Warehouse X of course I'm bringing booze because we want to get people Wet n Wild and in the party mood! Then a butt plug because I do feel like I need some sort of accessory. Since clothes are not an option, I need to feel dressed in some way. And last but not least, an electric toothbrush for dual purposes. I'll have fresh breath and it can be used in other ways as well!
---
Eila Adams, known for her vibrant spirit, is always in search of the hottest and most exciting experiences. She is a true expert when it comes to crafting unforgettable adventures. Joining her promises a thrilling journey filled with unique encounters, breathtaking moments, and naked activities!
So, prepare yourself for an incredible adventure as you set off with Eila Adams to Estonia. With her by your side, you can be sure that your travel experience will be nothing short of extraordinary
Stay tuned for our new posts and… Have a tempting day!
Eve