Tempting Discovery: Anna West
Let me introduce you to your next favorite MILF: Anna West! Her motto in life is «Making every day sexy and relatable». With her, you can feel free and have no secrets! In fact, she can't wait to know what your most hidden and secret fantasies are! Read on to find out more!
Let's get started! A few details about Anna West
Zodiac sign: Libra, the scales bouncing in the balance of life!
Favorite movie/series: Lately I've been binging the series The Vikings I love to wonder about sailing on their beautiful boats.
Favorite book: I read many books. Despite this, every day I prepare for daily battles with The Art of War.
The hobby you love the most: Without a doubt camping/backpacking, hiking and all kinds of outdoors adventures that I'm so excited to share!
Who is Anna West?
Anna West is the best of the Midwest. I am your girl next door who loves to read and geek out, and then I'm your MILF with all the snacks, movies and games. I love to go outside for relaxing walks. But at the same time hiking and mountain biking are some of my favorite activities. Moreover, Anna West is the one to connect with on as many levels as you like!
What do you like most about your career as a Content Creator?
I love creating expressions and experiences tailored to my Fans. Being able to travel and explore gives us endless options!
Without a doubt, being with people it's a gift to be understood and give each other what we like.  Attracting what I like and what I like back.  
What is the Temptation Experience for you?
A fun and exciting relationship is definitely hot, and I like to keep things very edgy and sexy, but at the same time a bit of intelligence is so intriguing. An intellectual relationship is what we crave as humans.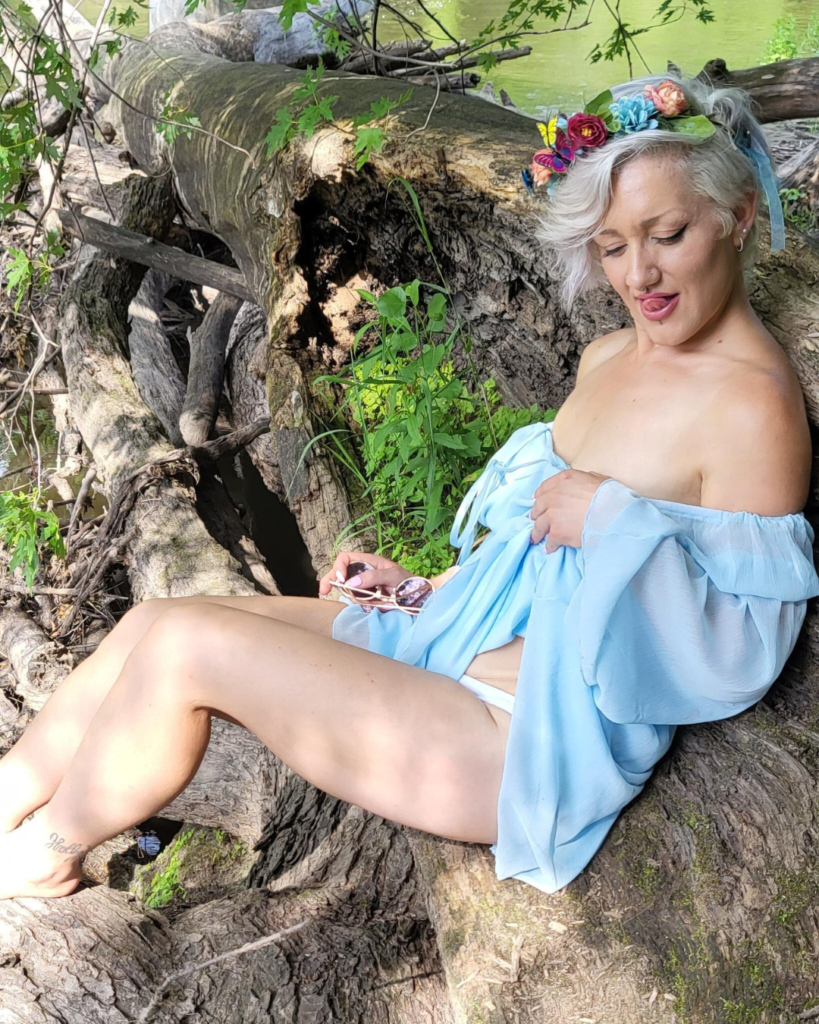 Let's continue talking about this hot MILF…
People can be really attracted by MILFs because they are a sort of taboo, and people enjoy things that are forbidden! Definitely, a MILF can be intimidating. They are very experienced, they will appreciate if you have clear ideas just like them… And just like Anna! The talk continues!
What can tempt you more?
I absolutely love getting to know my Fans and completing special requests. Each time we are together the Live Show gets better and this is a unique opportunity to be able to interact more directly with them, almost as if we were really together!
A funny or special story that you remember with a Fan
First of all, when I began creating content I would listen to oldies and dance to Johnny Cash and, my now loyal friend and Fan, and we shared a favorite song together, I get to share that moment every time that song plays!
What do you like the most about Tempted?
Tempted is a great place for us to get to know each other publicly at an intimate level. While we get the nuances out of the way for a much more interactive intimate level with privacy.
Tell us a secret that your Fans don't know yet!
I am definitely sporty. I love being sexy. We know all this. It's my love for all things Disney that will be my geek-out point any day!
Finally, who would you love to do a Virtual Party Show with?
I feel like Hazeleyes, here on Tempted, would be a fantastic fun party show host with me. He has some very interesting ideas. Also, we've met before so we vibe well!
---
Look no further and join her on this passionate journey! She will welcome you into her world, where there are no judgments and you can truly feel free to be yourself!
Stay tuned for our new posts and… Have a tempting day!
Eve