Naked & Uncut Estonia: The naughty realm of Missnvus!
Everyone: Make room for the epic Missnvus. One of London, England's wildest models, and self-proclaimed "Squirt Queen". She will soon leave you wet, and wanting more! Between her many tattoos and piercings, Missnvus oozes talent with a passion for pleasure.
Standing just 5' 5" tall, with 36f breasts, this 32yr old bi-sexual may be petite, but this fiery Scorpio sure packs a punch. Her shows are a thrill to watch, and will leave you with your eyes wide and jaws on the floor.
Missnvus has a whopping collection of over 100 sex toys, including her fuck machine, meaning she sure has something for everybody. So, bow your heads for the Queen of naughty – you won't be disappointed.
Read her full interview below!
How did you get into the industry?
One of my friends was already in the industry, and they introduced me to it. They schooled me and showed me what to do, so that's how I got into it. I have been in the industry now for 6 years. I started on Twitter and it went from there.
Do your friends/family know that you are an adult content creator?
Yes, they do know what I do, I don't hide it from anyone. Everyone knows I do it, and whilst my family were not proud of my choices at the start, I am an adult and they have to accept me for who I am. The main thing is that I have the support of my family and friends which always helps in this industry.
What would you consider as your best asset / part of your body?
My best asset would have to be my boobies. They have made me a lot of money in the industry, and I have even had them enhanced. So, yeah – it has to be my boobies!
What would you like people to know about you that would shock them?
I am known as a 'Squirt Queen', which will shock most people. Particularly because of the amount I can squirt, which goes on and on, and this gets me lots of great feedback.
What can we expect from your LIVE shows while at WarehouseX?
A lot of squirting! I will definitely be doing lots of squirt shows, using big dildos, a fuck machine, food, so lots of random stuff. But I will mainly be concentrating on my squirting shows.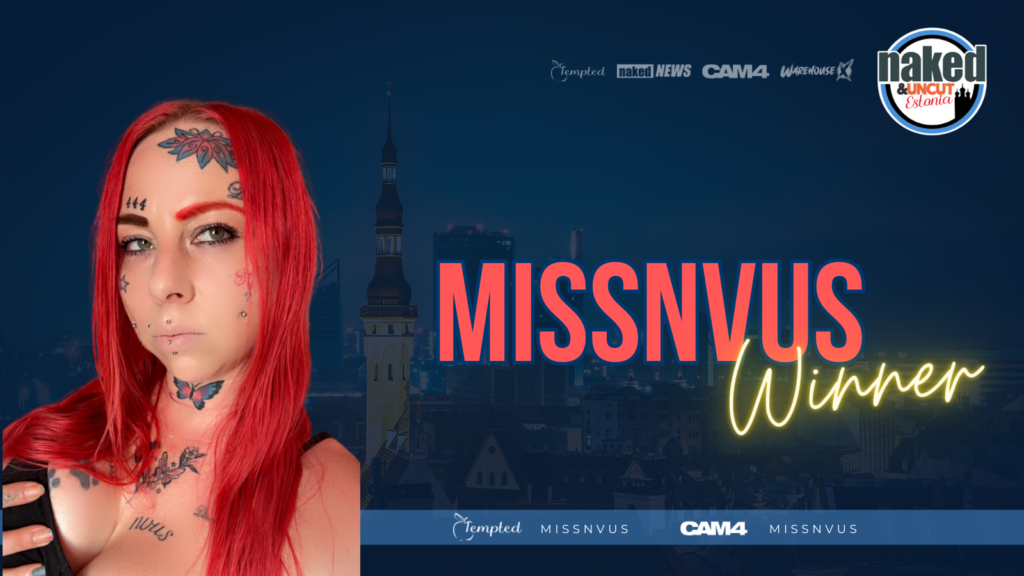 What is on your sexual bucket list and what do you hope to cross off while in Estonia? 
I have alway been a solo artist, and I've never made any content with anyone else. So, I would really like to work with other people, and do some shows with someone else. It would be great to make some content and do porn with someone else, rather than just on my own.
What's the best advice for feeling confident in your sexuality and body?
My best piece of advice is to focus on your strengths and concentrate on what you do best with your body. It is very important to be kind to yourself, and challenge negative thoughts. And remember – always surround yourself with positive people.
We all have our bad days, on a day when you don't feel as confident, how do you overcome that and forge on?
When I want to take care of myself, I wear clothes that make me feel good, and I calm my mind. I always turn negative thoughts into positive ones, and never compare myself to others. And most importantly, I am always patient with myself.
What's the wildest adventure you have had? Tell us the juicy details.
My wildest adventure would have to be having a gangbang with a few men and a few women. It was very wild, and I really enjoyed myself!
You only have 3 things you can pack and clothes are not an option… What are you bringing?
First would have to be my mobile phone, so I can use it to stay in touch, record content and stream. Next would be my doxy wand, which is so important to me. Finally, my make-up, so that I can get ready anywhere.
---
Missnvus is all about loving life, super chill and down-to-earth. Laughter, adventures to new places, and meeting cool new folks are her jam. She is a social butterfly, loves hanging out and shooting the breeze with people! Don't miss her naughty adventures in Estonia!
Stay tuned for our new posts and… Have a tempting day!
Eve