Meet Bambola Maso: Winner of Naked & Uncut: Estonia!
Meet Bambola Maso, a passionate Italian girl with a very unique journey. She stumbled upon the world of camming, viewing it as a playful endeavour. But, she soon found herself irresistibly drawn to this intoxicating world of creation.
She's not just a cam model, thanks to her vibrant and empathetic nature, she brings a new and exciting energy to her cam shows. Her amazing energy makes every interaction a memorable experience, leaving her fans wanting more. Buckle up for a journey filled with warmth, genuine empathy, and an abundance of surprises. With Bambola Maso, every moment is anything but boring!
In her free time, you will find "Bambi" immersed in the pages of captivating novels, as well as orchestrating outreach events "that make a difference".  Before venturing into the world of camming, she dedicated her time to being a dog educator.
How did you get into the industry?
I was watching girls on cam from around the age of 18, and so I decided to try camming for myself. I found it amazing!
Do your friends/family know that you are an adult content creator?
Yes, of course. They know of my work, although they don't watch my shows. However, they do try to support me, by following me on my social platforms. There is also a small part of me that would like to shock my poor Granny a little bit!
What would you consider as your best asset / part of your body? 
As my name is 'Bambi', it has to be my face and eyes, which always look sweet and hot.
What would you like people to know about you that would shock them?
I don't just do porn. I also have a YouTube channel where I cover lots of topics, from gender identity to Italian news, as well as other topics that are close to me.
What can we expect from your LIVE shows while at WarehouseX? 
I love to create a complicit and spontaneous atmosphere in my shows, so you will feel like you are right there in bed with me.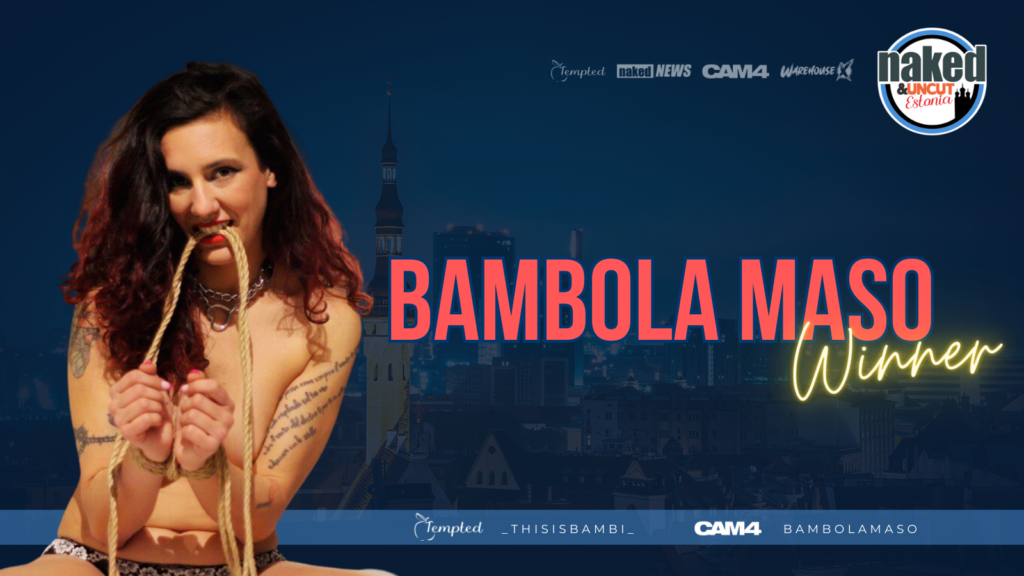 What is on your sexual bucket list and what do you hope to cross off while in Estonia? 
Whilst I am there, I am looking forward to having oral sex in the pool. I also want to have a spanking session on the pool table.
What's the best advice for feeling confident in your sexuality and body?
It's important to remember that sex is not a performance, you don't have to win something. It is an authentic union between 2 or more people.
We all have our bad days, on a day when you don't feel as confident, how do you overcome that and forge on?
I love to watch my own porn, it's great to look back at what I've done. I also like to masturbate to my porn, as masturbating is a great way to feel good.
What's the wildest adventure you have had? Tell us the juicy details.
I'm a crazy girl, so it's hard to choose just one, particularly with all the BDSM contest parties! But there was one time I went live on CAM4 in a parking lot, where I had sex with my stick shift. Whilst I was broadcasting, there were loads of strangers there watching me, which was so exciting.
You only have 3 things you can pack and clothes are not an option… What are you bringing?
Well clothes are so overrated anyway, so that's ok. Firstly I will have to bring my foxtail, as I take it everywhere. Next will be a condom, for safe sex. The third item will be my 'Lush'. I always have this in, even when shopping or going to the gym, and even when walking the dog. And I also recommend that you should keep it in during sex – you won't regret it.
---
Bambola Maso wishes to express her deepest appreciation to everyone who has stood by her side throughout her creative endeavors. The unwavering faith and boundless encouragement you've provided have paved the way for her exciting exploration in the heart of Estonia. She couldn't have embarked on this incredible journey without each and every one of you, and she holds your support close to her heart. Don't miss out on the updates, intimate moments, and awe-inspiring discoveries as she navigates this next phase of her creative expedition.
Stay tuned for our new posts and… Have a tempting day!
Eve